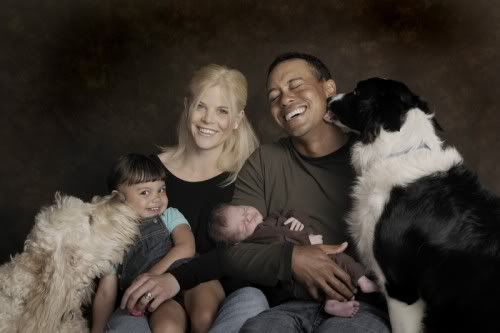 When writing What makes a winner, about Tiger Woods and his demeanour at the recent competition in China, I put this down to his natural reticence and total focus on his game. It now seems that maybe there was more to his moods than his natural reticence. It turns out he is not so reticent when chasing the girls! Is it just me, or does everyone else wonder how the most famous golfer in the world managed to meet with so many girls, have assignations all over the place and not a word leaked to the press till now?
He has been described in one of the newspapers as the most boring man among the most boring men in the world! Being a golfer I can't agree with this assessment, however I was reminded about that other grey man, who was also described as boring – John Major the ex UK prime minister. He too was a task driven introvert who focused on his task and did not court popularity.
With John Major the surprise was astonishing and did not come to light until after he left office. Had it happened when he was in office the consensus seems to be that his standing with the public would have risen, as most people said, with an air of restrained admiration, they didn't think he had it in him. The 'who ha' quickly died down because Major was an ex UK politician – whereas Tiger is a world wide sporting figure, who is admired by all golfers and even many who don't follow golf.
Tiger's personality is introverted and task driven, and he does not naturally share personal information at the best of times. He would certainly go to great lengths to keep this sort of information private. Yet did he really believe that he could? When people rise high in the sporting world they often go off the rails big time. Is this to do with their personality or is it a kick back reaction against the lengthy time they have spent training and perhaps feeling they've missed out on something?
It has been said of Tiger that  he strayed because he could, or even more likely because others couldn't. It is also a bit of,  power corrupts and absolute power corrupts absolutely. Yet I still feel it has to do with his personality type. When those who practise restraint for most of their life do decide to break the rules that bind them, they often go over board. Nothing is done by halves and boy this one certainly had no half measures.
The costs are going to be huge, and financial will be the least of these. It will be very very difficult for Tiger to get his wife back onside. He has humiliated her in front of the whole world and more importantly in front of the other golfing stars' wives. This is something she will not be able to get over easily. Even if she does forgive him and take him back, she will have a very difficult time forgetting. Life led in the public eye is very difficult at the best of times and this is surely the worst of times for both of them.
It's hard not to feel sorry for this family. There are those who are gloating because they like to see the mighty brought low and there will be a fair bit of jealousy being assuaged. It should be remembered that virtue is often due to a lack of opportunity. Tiger is wealthy and a huge golfing success, yet if neither of these things were true, he would still be a very attractive young man who could attract any girl he fancied.
His personality type will mean that he beats himself up more than all the world wide publicity could. It will be hardest for him to forgive his own lapse. He is a perfectionist who slipped, however it has to be remembered that he is also a young man who perhaps belatedly thought he was sowing his wild oats. Unfortunately with a wife and family comes responsibility and his first responsibility was to them, and in this he will know that he has very badly fallen from grace. Yes it will take a long time for the hullaballoo to die down however it may never really be over for Tiger as his own forgiveness will be the hardest to achieve.