Your Management Style Personality Report
Discover how your personality type affects you as a manager. 
How you manage other people
Read Your Own Report For FREE
Takes 5 Mins
Only Takes 5 minutes
Managers are busy, which is why this personality questionnaire only takes 5 minutes to complete.
Develop Your Skills
Use your personality report to develop your management style and become more effective.
"Spookily" Accurate
You will be astonished at how accurate your report is and justhow much it can tell you.
Designed For Managers and Potential Managers
Management is a tough job. This personality report was designed specifically to help line managers understand how their personality type affects their management style. If you are a manager then you will certainly want to know what it says. And if you are thinking of getting in to management then you should understand what kind of manager you will be.
Your Management Style
Do you naturaly use an authoratarian management style or a collaborative one? Your natural management style is described in detail.
Your Interviewing Style
A key role in all management is recruitment. Discover how you come across when interviewing job candidates.
Team Work
Your personality report will describe how you work as part of a team. Personality is complex, however, when you place two or more people together the psychology becomes extremely complex.
How You Manage Stress and Deal With Pressure
Different things stress different people depending on their personality type. What may cause one person stress, you may find exilerating or fun. Stress leads to low productivity and has no upside for you or for the organisation you work for.
Your personality report will identify the type of thing that may cause you stress. You can use this information to manage things and avoid work related stress.
Only takes 5 mins
No card required
What Our Customers Are Saying
Don't just take it from us, let our customers do the talking!
It's simple to use – only takes a few minutes to complete and the results are shockingly accurate.
We have found it very useful and a real help with recruitment. Not only can we get an insight in an applicant's characters to see if they fit our profile but more recently if they would fit our working environment. This has been massive as it helps with staff retention. It's all well and good getting staff that can do the job but if they hate working in a gallery then they won't stay long no matter what you do.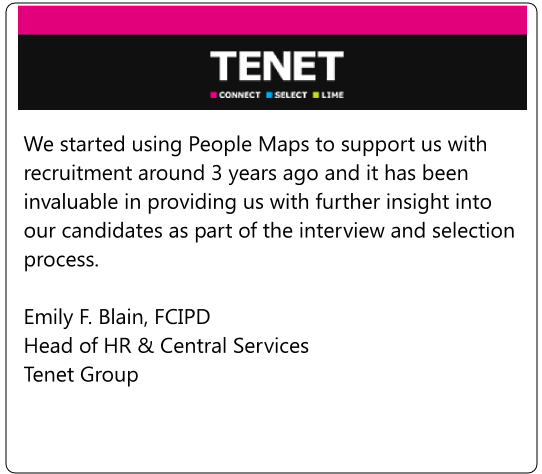 Frequently Asked Questions
What psychology is this based on?
PeopleMaps is a Jungian system based on the research of Carl Jung.
What is your refund policy?
We offer no-questions-asked refunds to all customers within 30 days of your purchase. If you are not satisfied with our product, then simply send us an email and we will refund your purchase right away. Our goal has always been to create a happy, thriving community.
Is it accurate?
We are confident that you will find the report to be incredibly accurate. We have many happy, repeat customers for PeopleMaps personality reports. This is a professional profiling system.
Can I try it out first?
Yes, You are provide with a free extract from your report. Your full report is 40 pages long. Your free report extract will give you an idea of just how insightful the personality report is. if you are still not sure, then try the free extract.