Discover What Your Ideal Candidate Looks Like With Success Profile Builder Service
There are certain candidates that will thrive in your job role and others that will always struggle. This has nothing to do with qualifications, skills or experience and everything to do with personality.
25+ Pages Long
This is a very detailed personality report about the salesperson.
More effective
Use this insight into personality type to become a better salesperson.
Accurate and Detailed
You will find your report to be incredibly accurate and revealing. 
Would you like to hire the right candidates? It gets a lot easier to spot your ideal candidate when you know what they look like. When we build a Success Profile for your job role, you will know what your ideal candidate looks like.
PeopleMaps will build a psychological profile of your ideal candidate for any given job role. This is done using either Historical Modelling, Environment Modelling or both.
What will work for your job role, may be different for what worked for some other organisation. This will be specific to your particular situation.
Your Success Profile reduces your recruitment risk significantly and saves you a lot of time.
Includes Several, Hand Picked, Personality Gauges
Authoritarian or Collaborative management style
Prioritises action over reflection
Likes to make decisions
Lets subordinates get on with tasks

Patient at explaining what's required

Puts the teams needs first
Encourages others to speak up
Keen awareness of an other's emotional state
Naturally plans ahead
Competes with self and others
Proactive and goal oriented
Prioritises action over perfection
Likes having rules and procedures to follow
Natural desire to multitask.
Coaches and Trainers
This report is ideal for coaches and trainers to use with clients that they are working with to help them become better salespeople.
Line Managers
If you are a line manager looking to help individuals on your team, then this is the report to use. This report is written to the employee so you can hand them their own copy and work through it together.
What Our Customers Are Saying
Don't just take it from us, let our customers do the talking!
It's simple to use – only takes a few minutes to complete and the results are shockingly accurate.
We have found it very useful and a real help with recruitment. Not only can we get an insight in an applicant's characters to see if they fit our profile but more recently if they would fit our working environment. This has been massive as it helps with staff retention. It's all well and good getting staff that can do the job but if they hate working in a gallery then they won't stay long no matter what you do.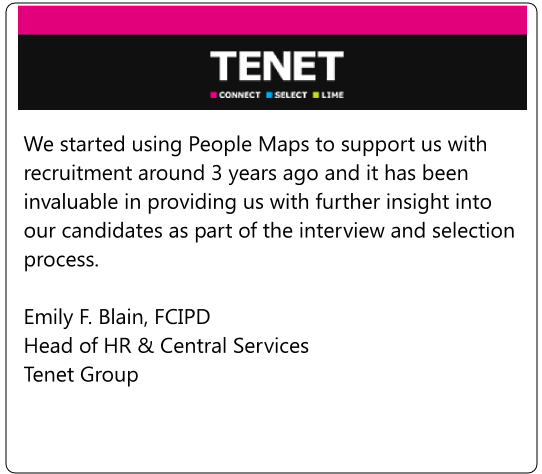 Frequently Asked Questions
What psychology is this based on?
PeopleMaps is a Jungian system based on the research of Carl Jung.
What is your refund policy?
We offer no-questions-asked refunds to all customers within 30 days of your purchase. If you are not satisfied with our product, then simply send us an email and we will refund your purchase right away. Our goal has always been to create a happy, thriving community.
Is it accurate?
We are confident that you will find the report to be incredibly accurate. We have many happy, repeat customers for PeopleMaps personality reports. This is a professional profiling system.