How To Make A Successful Transition From Office Worker To Work From Home With This Detailed Personality Report
Help your employee understand their personality and how it affects their ability to work from home.
This 20 page personality report provides line managers with the insight needed to make working from home a success.
20+ Pages Long
A detailed personality report describing how the individual will cope when asked to work from home.
Smooth Transition
Manage this huge change in circumstances smoothly and easily by understanding personality. psychology. 
Quick And Easy
Staff and Managers will find this personality report quick and easy to use. You will be up and running in minutes.
If you asking your employees to stop coming into the office and to work from home instead then you need to read this personality report.
Apart from the obvious logistical and technical issues you are considering, you also need to understand how an individual's personality type affects their ability to work from home.
Would like to discovers ways to ensure the transition from office worker to home worker is smooth? Then you need to read this personality report.
Different personality types will present different issues. What works well for one employee, maybe a disaster for the next. it's all a question of personality.
The WORK FROM HOME personality report will help your employee understand how their personality affects their ability to work from home and is essential reading.
PeopleMaps has been pioneering personality reports for over 20 years and WORK FROM HOME is designed to give to the employee so that they may understand themselves and develop their success as a home worker.
It's ground breaking as it provides a level of insight that most reports do not. Not only that but it is jargon-free and can be readily understood by the individual without them having to go on a special course.
Our personality affects pretty much everything we do, especially when it comes to our work. 
This personality report gives the individual as well as their manager a fast track to their success at work. This is much more efficient than using the old fashioned "trial and error" approach.
Yes, we can all perform at significantly higher levels and enjoy much more success at work, we just need to understand how.
What's In This Personality Report
​We start by looking at an overview of their personality. For many people this is the first time they have read their own personality report and they are often surprised as to what it can reveal.
We then look at their natural strengths and what they find challenging. Naturally this is all relevant, however, it is a section that most people find very useful as it can give focus, fast.
Motivation – If  we understand our core motivation then we can tap into it to help us be more successful at work. What motivates us is determined by our personality.
Working At Home – There is a long and detailed sections looking specifically at the issues that come up when working from home. Different people have different issues.
Your Manager – Want to know what kind of manager you will thrive under? The report will provide guidance for both the individual and their manager that could really help both parties.
How do you cope with Pressure? What causes you to feel pressure at work? These are personality issues and it's essential you understand them and make plans.
What's your natural Communication Style. Many of our problems arise through poor communication. Understand your communication preferences and you can really help your career.
Many jobs have an administration element to them. How does your personality affect yours.
Customer Focus – How naturally customer-focused are you? At work we all have customers; some internal some external. Understanding how you relate to customers can really help you succeed at work.
The Report Contains Several Personality Gauges
Competitiveness
Ability to work alone
What pace of environment is preferred
Coping with deadlines
Attention to detail
How they cope with bureaucracy
How cooperative are they
Prefers to work alone
Prefers a hands of line manager
Need for autonomy.
Ability to prioritise
How methodical are they
Willingness to follow and agreed process.
Employees
This report is written to the employee and is designed to help them understand their persnality and how it affects them at work, esspecially when working from home..
Line Managers
If you are a line manager looking to help your employees make the transition to working from home, then this is the report to use. This report is written to the employee so you can hand them their own copy and work through it together.
Want to read your own report? Buy Now and get instant access to your personality report.
Get a Quote
Need More than One Report?
If you are looking to buy several reports for your staff, then please request a quote. Discounts are available when you order x5 report credits or more.
What Our Customers Are Saying
Don't just take it from us, let our customers do the talking!
It's simple to use – only takes a few minutes to complete and the results are shockingly accurate.
We have found it very useful and a real help with recruitment. Not only can we get an insight in an applicant's characters to see if they fit our profile but more recently if they would fit our working environment. This has been massive as it helps with staff retention. It's all well and good getting staff that can do the job but if they hate working in a gallery then they won't stay long no matter what you do.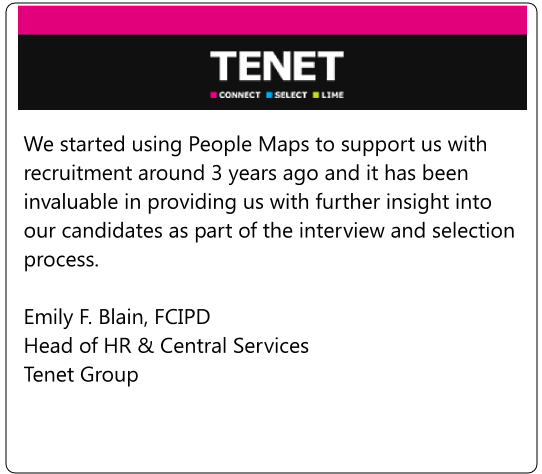 Frequently Asked Questions
What psychology is this based on?
PeopleMaps is a Jungian system based on the research of Carl Jung.
What is your refund policy?
We offer no-questions-asked refunds to all customers within 30 days of your purchase. If you are not satisfied with our product, then simply send us an email and we will refund your purchase right away. Our goal has always been to create a happy, thriving community.
Is it accurate?
We are confident that you will find the report to be incredibly accurate. We have many happy, repeat customers for PeopleMaps personality reports. This is a professional profiling system.