Personality Testing For Recruitment Agencies
Personality Reports Designed Exclusively For Recruitment Agencies.
Instant access. No training required. Reports are written in plain English and are jargon free, so you and your clients will understand them right away.
Only takes 5 minutes. No credit card required.
Plain English
Your clients can easily use the reports right away with no specialist training, as the reports are written in plain English and require no interpretation.
Designed For Recruitment Agencies
The Agency Pro range of personality reports has been designed exclusively for recruitment agencies., so it meets your specific requirements.
Agency Discount
As an Agency you can enjoy wholesale discounts, either by joining the Partner program or by taking an annual licence. 
Agency Pro Product Range
PeopleMaps has developed a range of personality reports designed exclusvely for recruitment agencies.
Detailed Reports
Each report in the Agency Pro range is several pages long and describes the candidate in detail. Each report contains about a dozen Gauges as well as the descriptive text so you can see at a glance what the candidate is like.
No Jargon
The Agency Pro range of personality reports are jargon free, so you and your client can read them without any training. Reports are written in plain English.
All Job Roles Covered
There is a report design available regardless of what the job role is. If you are unsure which report to use, please contact PeopleMaps.
Incredibly Accurate
You will find the reports to be incredibly accurate. Tried and tested on over 1.5 million people over the last twenty years, these reports will simply amaze you at the level of accuracy and insight.
The Personality Certificate
This is a very low cost personality report designed to help job candidates get more interviews. With a license these reports are cheap enough to give away with every CV you submit.
Attract More Candidates
offer your candidates a free Personality Certificate when they register with your agency. PeopleMaps has built huge lists of job candidates simply by offeringthem a free personality report, now you can too.
Get Candidates More Interviews
Send the Personality Certificate along with each CV you submit and catch the employers eye. Help your candidates stand out by offering something that others do not.
Very Affordable
The Personality Certificate is priced to be given away in large numbers. PeopleMaps will provide you with a license making the Personality Certificate the most cost effective professional personality report available today.
Hire the Best Recruitment Consultants
PeopleMaps worked with some recruitment agencies to design a personality report to help you hire your own recruitment consultants.
Recruitment consultant is a tough job and most personality types can't cope. This report will help you identify who will cope and who will waste your time.
This personality report contains over a dozen gauges including;
Proactive in influencing the decisions of others
Care about customer satisfaction.
Natural determination to close a sale.
Not deflected by bullying clients.
Pushes past rejection to close a sale.
Willing to ask for the money.
OnBoarding Report
Provide your clients with a copy of this OnBoarding report for each new employee you provide.
Attract More Clients
Employers spend millions on personality reports each year. Delight your clients by provide them this personality report as part of your service.
Protect Your Commission
Use this personality report to help line managers with their new employee and prevent the new employee from quitting prematurely. This not only sees your commission clawed back but it is likely to lose you a client.
Be Different
Differentiate your agency from all the others by offering your clients a personality report with each new appointee. Do something that other agencies are not.
Try It For FREE
Before you commit to anything you should read your own report for free and judge for yourself the accuracy of the report.
Click on the button and register for your free trial. It only takes a minute.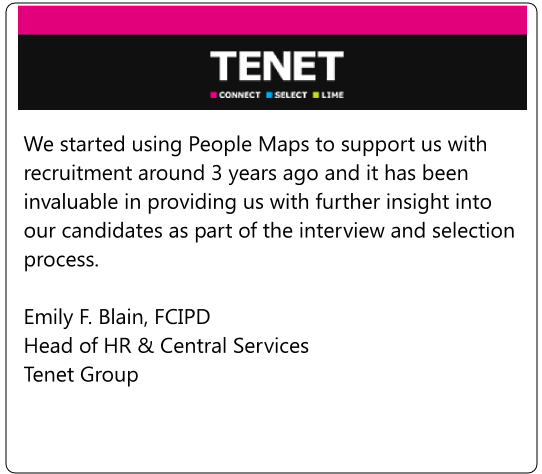 Frequently Asked Questions
What psychology is this based on?
PeopleMaps is a Jungian system based on the research of Carl Jung.
What is your refund policy?
We offer no-questions-asked refunds to all customers within 30 days of your purchase. If you are not satisfied with our product, then simply send us an email and we will refund your purchase right away. Our goal has always been to create a happy, thriving community.
Is it accurate?
We are confident that you will find PeopleMaps to be incredibly accurate. We have many happy, repeat customers. This is a professional profiling system.
Can I try it out first?
Yes, Please contact PeopleMaps and request to read your own personality report and judge for yourself how powerful and insightful it is.