Discover Your Best Candidates FAST. Reduce Candidate Processing Time and  Staff Turnover
Identify your best candidates at a glance.
Reduce Staff Turnover by identifying the candidates who will cope best with your work environment.
Reduce your candidate processing time by at least 50%, whilst getting better results.
Quick
Profile hundreds of applicants in a few seconds.
Good Data
Get the data you need to make good hiring decisions.
Easy
Master the easy to use Control Room in a matter of minutes.
Reduce Candidate Processing Time
If you would like to reduce candidate processing time, whist ensuring you hire the very best candidates, then Shortlist Pro is exactly what you need.
Do you receive a lot of applications and have to spend hours or even days processing them?  Then Shortlist Pro will prioritise your applicants, showing you the ones that are most likely to thrive in the role over time.
Imagine being able to know wich 20% to interview first.
Reduce Staff Turnover
There are some personality types that will thrive in your job role, whereas most will struggle to cope. Hire the wrong personality type and you are likely to experience high staff turnover.
PeopleMaps will help you build a Success Profile and show you the personality type that copes best with your job role. 
When you hire people that match your Success Profile you are more likely to see a lower staff turnover. Essentially you are copying what is already working for you.
Use Better Data
When you can't rely on the traditional predictors of performance; qualifications, work experience and skills, then you have very little data to work with to help you make a good hiring decision.
This means you end up interviewing most applicants and the interview experience is what you rely on to make your hiring decision.
With PeopleMaps you get a lot of data, even on the most inexperienced candidate, so you can make an informed recruitment decision. Only with good data can we make good hiring decisions.
How Does Shortlist Pro Work?
First we build a Success Profile using Historical Modelling, so that you know which personality type is already successful in your specific job role.
Each candidate completes a short personality questionnaire online, which takes about 5 minutes.
The candidate results are all displayed in a single table, so you can quickly compare each against your Success Profile.
You select which aspects of personality you wish to look at by selecting x6 personality gauges from the library of over 100 personality gauges. Pick the ones most important to your job role.
There are over 100 Personality Guages To Choose From. 
Competitiveness
Ability to work alone
What pace of environment is preferred
Coping with deadlines
Attention to detail
How they cope with bureaucracy
How cooperative are they
Prefers to work alone
Prefers a hands of line manager
Need for autonomy.
Ability to prioritise
How methodical are they
Willingness to follow and agreed process.
Who Should Use Shortlist Pro?
Large Numbers of Candidates
Do you have to process large numbers of applications? Use Shortlist Pro as your first line of processing and save yourself days of of work. it can reduce hundreds of applicants down to your best 10%.
First Job or No Experience
If you are giving people their first job or or giving people job that have no previous experience then you need some data to work with as the traditional predictors of performance are not available. Shortlist Pro will give you data to help you make a decision.
What Our Customers Are Saying
Don't just take it from us, let our customers do the talking!
It's simple to use – only takes a few minutes to complete and the results are shockingly accurate.
We have found it very useful and a real help with recruitment. Not only can we get an insight in an applicant's characters to see if they fit our profile but more recently if they would fit our working environment. This has been massive as it helps with staff retention. It's all well and good getting staff that can do the job but if they hate working in a gallery then they won't stay long no matter what you do.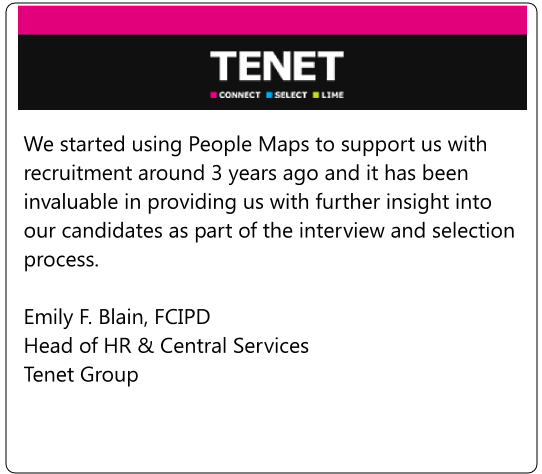 Frequently Asked Questions
What psychology is this based on?
PeopleMaps is a Jungian system based on the research of Carl Jung.
What is your refund policy?
We offer no-questions-asked refunds to all customers within 30 days of your purchase. If you are not satisfied with our product, then simply send us an email and we will refund your purchase right away. Our goal has always been to create a happy, thriving community.
Is it accurate?
We are confident that you will find the report to be incredibly accurate. We have many happy, repeat customers for PeopleMaps personality reports. This is a professional profiling system.