Help People Discover Their Natural Sales Style With This Detailed Personality Report
Help your client / employee become a better salesperson
At 25 pages long, this personality report is packed full of insight into your client/employee as a salesperson.
Discover what makes them tick and learn how to use it to get more orders.
25+ Pages Long
This is a very detailed personality report about the salesperson.
More effective
Use this insight into personality type to become a better salesperson.
Accurate and Detailed
You will find your report to be incredibly accurate and revealing. 
If you are interested in discovering more about their personality and helping your clients/employees become exceptional salespeople, then this is essential reading.
After months of development, PeopleMaps has released a new personality report called "YOUR SALES STYLE".
It's amazing because it covers EVERYTHING YOU NEED TO KNOW ABOUT AN INDIVIDUAL'S SALES STYLE plus . . . . .
Just imagine being able to coach someone to become a better salesperson, without spending years using a trial and error approach.
Yes, you can develop a deep understanding of their personality psychology and unlock hidden potential as a salesperson. It truly is possible, but you just need to know-how.
That's what this brand new personality report can do for you – Plus you can…
….discover what makes them tick and what motivates them. To develop sales potential you need to understand the underpinning motivation.
Every bit of this personality report is packed with information on your client's/employee's personality psychology and how to tap into it to release their potential as a salesperson. 
What's In This Personality Report
​The report begins with a Personality Overview, so that you and your client/employee can get a quick insight into their personality.
Next, you will read about the individual's Sales Style. Salespeople come in a variety of flavours.
Cold Calling is an important part of most sales environments, so you will want to know how they handle it.
How Competitive and Resilient are they? Sales can be tough.
What are they really like when it comes to Customer Relations?
Will they work well as part of a sales team or are they better working on their own?
How are they when it comes to Admin and Planning? Is it holding back their sales success?
By understanding your client's/employees Core Motivation you can help them develop their sales ability.
Discover what kind of Management Style they respond to best.
This Personality Report Includes Over 25 Personality Gauges
Prioritises action over reflection
Quick thinking, decisions and reflexes
Natural ability to build rapport
Proactive and goal oriented
Willing to cold call
Competes with self and others. Winning matters
Natural determination to close a sale.
Determination To Quickly Overcome Setbacks
Willing to ask for the money
Cares deeply about the customer and their needs.
Prefers having lots to do and working to tight deadlines
Naturally good at prioritising tasks
Coaches and Trainers
This report is ideal for coaches and trainers to use with clients that they are working with to help them become better salespeople. Even if you have little or no experience in sales, you can still use the report to help people discover their natural sales style and become better sales people as a result.
Sales Managers
If you are a Sales Manager looking to develop each of your sales team, then this report will be a huge help. Use it to develop a training and support plan for each salesperson on your team. Different people have different support issues. Use this report to show you exactly where the issues are.
What Our Customers Are Saying
Don't just take it from us, let our customers do the talking!
It's simple to use – only takes a few minutes to complete and the results are shockingly accurate.
We have found it very useful and a real help with recruitment. Not only can we get an insight in an applicant's characters to see if they fit our profile but more recently if they would fit our working environment. This has been massive as it helps with staff retention. It's all well and good getting staff that can do the job but if they hate working in a gallery then they won't stay long no matter what you do.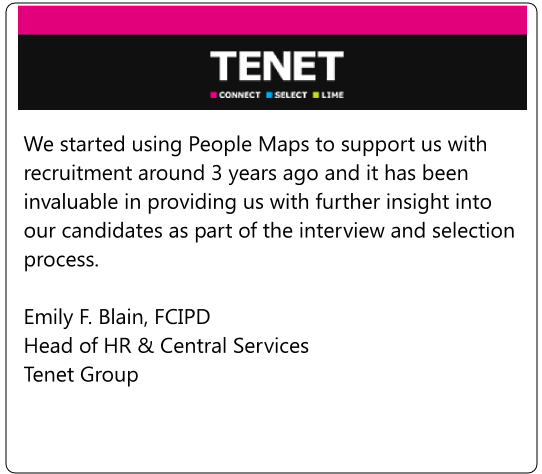 Frequently Asked Questions
What psychology is this based on?
PeopleMaps is a Jungian system based on the research of Carl Jung.
What is your refund policy?
We offer no-questions-asked refunds to all customers within 30 days of your purchase. If you are not satisfied with our product, then simply send us an email and we will refund your purchase right away. Our goal has always been to create a happy, thriving community.
Is it accurate?
We are confident that you will find the report to be incredibly accurate. We have many happy, repeat customers for PeopleMaps personality reports. This is a professional profiling system.