Manager Guides Personality Reports
Discover how to manage your staff more effectively and get better results fast. Described as the User Manual for managers, use these reports to understand what makes each staff member tick.
Read Your Own Report For FREE
Takes 5 Mins
Staff Development
Powerful tools to help you with staff development projects.
Recruitment
Show your clients how to hire the right people for their organisation.
Teams
Build better teams for your clients, using this unique perosnality profiling tool.
Your Management Style
Are you a manager?
This personality report is designed to help you understand your management style.
An understanding of your personality and how it affects the way you manage people can help you become an even more effective manager.
Managing Sales Staff
Managing sales staff is one of the most challenging roles of all. 
Get it right and you can increase sales. Get it wrong and you could cost your organisation a fortune in lost revenue.
The sales person completes the personality questionnaire and the report goes to the sales manager. This personality report is about the sales person and it will help the sales manager support and train the salesperson and ensure the very best results.
Managing People
Managing people is the most challenging aspect of management.
Yet, you success as a manager will mostly come from your ability to manage people as opposed to things.
The challenge is that different people respond to different management styles and approaches, so you need to know how to adjust your managment approach for each of your staff.
This detailed personality report will explain in detail what you need to do to manage each staff member more effectively.
Managing Franchisees
Running a franchise model is different from being an employer and yet you still need to ensure that your franchisees are successful.
The reality is that your franchisees need your help and your ability to bring the best out in them, will see your franchise enjoy better results overall.
This personality rpeort will describe each franchisee in detail and guide you on how to help them run a successful franchise.
How to create their ideal work environment
Different people thrive in different work environments. As a line manage you play a large part in creating the work environment that your employees experience.
Very often small adjustments can be made to provide each staff member with a work environment that they can excel in.
How to lead and manage
People are complex. In order to get the very best from an existing employee, you need to understand what management style they respond best to. This personality report will explain in detail how to make those small adjustments in your management to get the best from each employee.
How to motivate
It will not surprise you that our personality type determines our core motivation. As a line manager you should know what motivates each individual. You will be amazed at how it varies. What motivates one person, will do the exact opposite with the next. This personality report will explain exactly what you need to know.
How to reduce work related stress
Stressed employees are not effective. As a line manager you want to know how to avoid creating stressful situations in order to keep your employees happy and productive. the personality report explains what is likely to stress each individual. This varies from person to person, which is why it is easy to inadvertently stress an employee.
How to reprimand successfully
From time to time employees do something they shouldn't have and you need to speak to them about it. it is important that you handle this well or you could see a significant drop in their productivity. This is perhaps one of the most challenging areas of managing people. You can't just ignore the issue but how do you handle it? The personality report will tell you exactly what you need to consider.
Only takes 5 mins
No card required
What Our Customers Are Saying
Don't just take it from us, let our customers do the talking!
It's simple to use – only takes a few minutes to complete and the results are shockingly accurate.
We have found it very useful and a real help with recruitment. Not only can we get an insight in an applicant's characters to see if they fit our profile but more recently if they would fit our working environment. This has been massive as it helps with staff retention. It's all well and good getting staff that can do the job but if they hate working in a gallery then they won't stay long no matter what you do.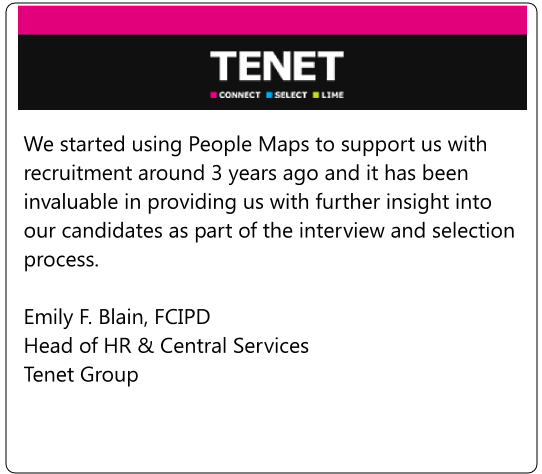 Frequently Asked Questions
What psychology is this based on?
PeopleMaps is a Jungian system based on the research of Carl Jung.
What is your refund policy?
We offer no-questions-asked refunds to all customers within 30 days of your purchase. If you are not satisfied with our product, then simply send us an email and we will refund your purchase right away. Our goal has always been to create a happy, thriving community.
Is it accurate?
We are confident that you will find the report to be incredibly accurate. We have many happy, repeat customers for PeopleMaps personality reports. This is a professional profiling system.
Can I try it out first?
Yes, You are provide with a free extract from your report. Your full report is 40 pages long. Your free report extract will give you an idea of just how insightful the personality report is. if you are still not sure, then try the free extract.