Personality Reports Designed Exclusively For The Franchise Industry
Detailed personality reports helping franchisors recruit and support franchisees.
Three Applications
Reports for Recruitment, Management and Coaching. 
Jargon Free
You can use reports right away with no training.
Very Accurate
Gain incredible insight and information about each franchisee.
If you are a Franchisor and would like to recruit the right franchisees and coach them to run a successful franchise, then the Franchise Pro range of personality reports is exactly what you need.
PeopleMaps has been developing personality reports for over 20 years. The Franchise Pro range of personality reports has been designed exclusively for franchisors and franchisees.
It's important to have each franchise run successfully and this range of personality reports will help you do just that. The reports reveals everything you need to know about the franchisee to help them become successful.
Reports are written in plain English and jargon free, so no specialist training is required to use the reports, therefore you can start using them right away . 
Use Franchise Pro to differentiate your franchise from your competitors and to increase the chances of each franchisee being a success.
Recruit
Selecting the right franchisees at the outset is key to ensuring that all your franchisees are successful. This personality report is designed to help you interview and select the right people.
Work environments vary. Some personality types will thrive in your work environment and many will struggle to cope.
Franchise Pro Recruit will reduce your risk and increase the chances of every franchisee being a success.
For the interviewer's eyes only.
Manage
Do you manage franchisees? is it your responsibility to help existing franchisees to become successful? If so then this personality report is essential reading.
It is a managers guide, providing you with insight into the franchisee's behaviour. it will guide you on how to manage and support them on an ongoing basis.
What works with one individual, maybe the worst thing to do with another. This report will show you exactly how to manage each franchisee individually.
For the manager eyes only.
Develop
This report is written to the franchisee. it is designed to help them understand their own personality and how it affects how they run their franchise.
Hand this report to each franchisee. Use it as a basis for developing bespoke coaching and support programs for each individual. Different personality types have different issues.
This report will identify where the individual will do well and where they may struggle and need support.
What's In The Personality Reports?
Each report contains several text-based topics. Describing the individuals personality. Each topic describes one specific aspect of the candidate.
The topics used vary from report to report. 
Every report contains at least x20 Personality Gauges. Each gauge measures a specific behaviour from 0 to 100. This provides you with a quick visual of specific behaviours.
Each report design uses a different set of gauges, as each gauge has to be relevant to the subject of the report. So the Sales report will include gauges pertinent to selling.
Each report is between 15 and 25 pages long. They are not only incredibly accurate but detailed.
Each Report Includes 20 Personality Gauges
Authoritarian or Collaborative management style
x4 gauges re Motivation
x6 Gauges on Sales Style
Decision making
Gauges relating to Management Style
Team working gauges.
Behaviour Gauges
Environment Gauges
Franchisors
Franchise Pro – Recruit and Franchise Pro Manage are both designed for the franchisor.
Franchisees
Franchise Pro – Develop is written to the franchisee and is designed to give to them.
What Our Customers Are Saying
Don't just take it from us, let our customers do the talking!
It's simple to use – only takes a few minutes to complete and the results are shockingly accurate.
We have found it very useful and a real help with recruitment. Not only can we get an insight in an applicant's characters to see if they fit our profile but more recently if they would fit our working environment. This has been massive as it helps with staff retention. It's all well and good getting staff that can do the job but if they hate working in a gallery then they won't stay long no matter what you do.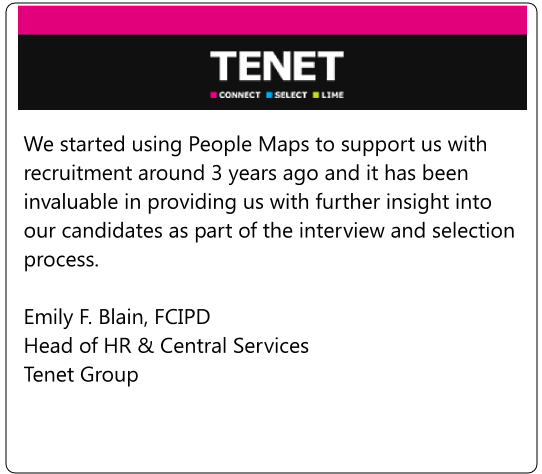 Frequently Asked Questions
What psychology is this based on?
PeopleMaps is a Jungian system based on the research of Carl Jung.
What is your refund policy?
We offer no-questions-asked refunds to all customers within 30 days of your purchase. If you are not satisfied with our product, then simply send us an email and we will refund your purchase right away. Our goal has always been to create a happy, thriving community.
Is it accurate?
We are confident that you will find the report to be incredibly accurate. We have many happy, repeat customers for PeopleMaps personality reports. This is a professional profiling system.