Customised Personality Profiling Systems For Life Coaches
Looking For A Customised Personality Profiler To Use In Your Coaching Practice?
Easy To Use
Everything is done for you. Simply paste in a line of code to your site and you are ready to go.
Great Value
It takes years to develop a professional personality profiler. With Custom Pro you get the profiler you want without the development costs.
Smartphone Friendly
Most people use their smartphones to access the Internet, which is why PeopleMaps is smartphone friendly.
Customised Personality Report Content
What Do You Want Included In Your Report?
PeopleMaps has written thousands of personality topics over the last twenty years and has a huge library of personality content to draw from. Please describe what you want your custom report to be about and we will assemble it for you.
Write Your Own Introduction
You will probably want to introduce the personality report and say a few words to your audience. With Custom Pro you may write as much as you like for your introduction.
Graphics Can Be Included
If you want to include some colour to your report, PeopleMaps can provide graphics or you may provide graphics of your own, as long as you have permission to use them.
Write Your Closing Comments
You may write your closing comments that appear after the personality content. You may include instructions on what to do next and links.
The Questionnaire
Although the report may be about any subject you like (providing it is personality-centric),  the questionnaire remains the same. The questions and algorithm accurately determine the personality type. It takes years and hundreds of thousands of users to develop algorithms that are reliable.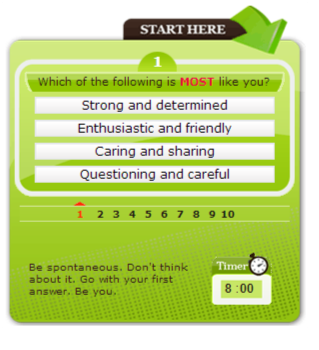 Automatic Delivery
Your website visitors complete the personality questionnaire and then a short registration form. As soon as this is done the report is revealed to them. They are not charged for this.
The Personality Widget
The entire user experience is delivered inside a "box" within a page within your website. This box is typically 300 x 320 px. We call this a personality widget.
Customised Cover
You may provide your own artwork from the from of the Widget as long as it is 300 x 320 and has a Button or call to action included.
Colour Scheme
Your website's colour scheme may also be matched in the questionnaire, if you provide the actual colour codes you want.
Become An Approved PeopleMaps Coach
PeopleMaps reports may only be distributed by a trained and approved PeopleMaps Coach. PeopleMaps includes an online video training course to all coaches using Custom Pro, if you haven't already completed the training.
Online Video Training
The training is provided online via video. It is delivered via several short videos, covering everything from the psychology behind PeopleMaps to its application in coaching.
Pricing – The Price Varies According To The Following
Annual License
PeopleMaps charges an annual license fee for Custom Pro. It is cheaper than you might think, as it is priced to suit small independent coaches.
The Size of The Report You Want
A report with just one or two personality topics will be cheaper than a report with five or six topics.
The Complexity Of Your Design
If you are happy to use standard designs and colours it will be cheaper than a complex design.
Monthly Payments
You may make monthly payments towards your annual license fee, rather than pay it all in advance.
The Number Of Reports Per Year
A license for ten reports per month is going to be a lot cheaper than a license for 100 reports per month. Please indicate the approximate number of reports you will issue.
We only require an estimate at the outset, as we can adjust the license every few months (up or down).
Money Back Guarantee
If you are unhappy with your purchase for any reason, then you may simply ask for a refund as PeopleMaps offers a Money Back Guarantee.
No Contract – Pay As You Go
There are no set up fees,. There is no contract. You simply buy the credits you need when you need them.
Frequently Asked Questions
What Can A Custom Personality Report Be About?
Personality affects almost every aspect of our lives, so we can probably find a personality topic to meet your needs. There are a few things that are not personality centric such as "honesty" and we would not consider any prejudice issues such as racism.
What is your refund policy?
We offer no-questions-asked refunds to all customers within 30 days of your purchase. If you are not satisfied with our product, then simply send us an email and we will refund your purchase right away. This is a risk free purchase.
How does PeopleMaps compare with other systems?
PeopleMaps competes directly with SHL, DISC and Thomas International. These are all professional systems, tried and tested over many years. As far as we are aware, PeopleMaps however is the only professional system to offer custom personality reports under license.
Can I modify my license?
Yes. Once you have been using your new profiling system, you will have a better idea of numbers. PeopleMaps is happy to modify the license arrangement every few weeks, up or down to suit your actual use.
What training is provided?
PeopleMaps only allows trained and approved coaches to distribute its personality reports. This is why training is included with the license.
The training is provided online via video and may be completed at a time that is convenient to you. As a coach you find it interesting.
Why is PeopleMaps so cheap?
Instead of employing sales staff, PeopleMaps invests in its online technology and its product range, so that you can get the very best at the lowest prices. PeopleMaps delivers Software as a Service (SaaS) and passes on those saving to you.