Personality Reports Designed Exclusively For Recruitment Agencies
Detailed personality reports to help you and your clients recruit the right people.
Several Designs
Reports designed to meet specific job roles. 
Jargon Free
You and your clients can use report right away with no training.
Accurate and Detailed
You and your clients will find reports to be incredibly accurate and revealing. 
If you are a Recruitment Agency and would like to use personalty reports when recruiting for yourself or your clients, then Agency Pro is exactly what you need.
PeopleMaps has been developing personality reports for over 20 years. The Agency Pro range of personality reports has been designed exclusively for recruitment consultants to use. It is not available to the public.
It's amazing because, perhaps for the first time, it reveals everything you need to know about the candidate.
It's ideal for your clients because the reports are written in plain English and no specialist training is required to use the reports. You can hand the reports to your client and they can understand them as they are jargon free.
Use Agency Pro to differentiate your agency from your competitors and to add value to your recruitment service.
Brand the reports with your logo and take full credit for providing added value to your clients.
Win more clients and delight your existing ones by adding value and differentiating.
Consultant
The Consultant report is designed to help you hire recruitment consultants for your own agency.
This report was designed after discussions with several recruitment agency owners and managers, to identify what are the main issues to look for.
This is a tough job that only certain personality types can thrive in. Most personality types will struggle to cope in this role.
Retail
Retail is a huge employer. Personality profiling was always too expensive to use in a retail job, however, PeopleMaps has changed that by introducing a very affordable report.
Personality is very important in retail as the customer's opinion of the organisation is determined by their opinion of the retail person they speak to.
Contact Centre Sales
Contact centres suffer from unusually high staff turnover. This is because only certain personality types can actually cope with this work environment for any length of time.
This report will help you hire contact centre staff that can not only sell but that can cope with the work environment. Reduce staff turnover and increase sales in contact centres with this report.
Contact Centre Customer Service
Some personality types are naturally good at customer service. They can't help but leave customers feeling delighted.
You want to hire people that are naturally good at customer service. 
In addition, you want to hire people who can cope with the contact centre work environment. This report will help you identify the people who cope with this naturally.
Technical Roles
This personality report is ideal for any type of technical job role.
We are not looking at specific skills, only their personality. However, technical roles are generally handled best by some personality types than others, regardless of qualification.
You may also want to consider how the individual will get on with other people and fit in general. Sometimes technical competence is not enough. Managers want to know who they will be working with.
Sales
This report looks at face to face sales as opposed to telephone-based selling.
If there was ever an area where personality really matters, it is in sales.
What may surprise you to know is that we find successful salespeople across the personality spectrum.
This report, when used in conjunction with a Success Profile, will help you identify the type of salesperson you need for each situation. 
Project Manager
We find Project Managers in a wide range of situations. it takes a certain kind of mindset to manage projects successfully and get them to the finish line.
Yes, there is a lot of skill involved but personality plays a huge part in things too. no point getting a project finished if everyone the Project Manager relies upon is upset and stressed out.
This report will help you understand how they approach projects and people.
Manager
Use this report whenever you are hiring someone who will be responsible for other staff.
Managing people is one of the most challenging aspects of management and team-leading. This very detailed report will describe in detail how the individual deals with every aspect of management.
It also describes their natural Management Style, which may or may not suit the organisation.
General
If you are not sure which report design to use or you prefer to use one report design for all situations, then use this report.
It covers a broad range of personality issues and is suitable for just about anything. 
Customer Service
This report looks mostly at Face to Face customer service.
Many jobs have a strong customer service element, even though the job title may say something else. if you feel that the role is primarily a customer service role, then use this report. 
Customer service can be internal or external and it is largely about personality.  The experience a customer is left with is often determined by the personal customer service they receive. Good customer service can overcome poor delivery and mistkes in general. 
Admin
There are thousands of different admin roles in the world. Most of them do not have "admin" in the job title, so they can be tricky to spot.
If you feel you are dealing with an admin role then use this report. There are some behaviours, determined by personality, that you probably want to see in people who are dealing with admin.
Accountant
Use the report for any type of finance role, junior or senior.
The report talks about varies aspects of behaviour that are very important when dealing with finances in any way.
This is not the kind of job where approximations are good enough. These roles generally demand high levels of accuracy at all times. Some personality types are consistently better at this than others.
Graduate
Working on Graduate Recruitment? This report is designed to help employers choose between graduates.
The challenge with hiring graduates is that many of the CVs look very similar. Applicants often have similar qualifications and no work experience to talk of.
The only thing you have to work with is personality. This report can be used in all graduate recruitment situations as it is broad enough and focuses on key interpersonal issues.
OnBoarding
This report is designed to be used once the new person has been hired.
Give this report to the line manager to help them understand their new employee and how to manage them.
Think of it as the User Manual.
Help your clients with their onboarding and ensure their new appointees settle in quickly. Managing staff is difficult. This report will really help line managers.
| | |
| --- | --- |
| Features | Benefits |
| Designed specifically for Recruitment Agencies | PeopleMaps has worked with many agencies over the years and has designed reports to suit your particular needs. |
| Written in plain English. No jargon. | No training required, so you and your clients can use and understand the personality reports immediately. |
| Reports can be downloaded as a PDF | You can send the candidate's personality report to your client as an attachment |
| Questionnaire only takes 5 minutes | Candidates are happy to spend 5 minutes, whereas they are less likely to spend 20 minutes or more completing a personality questionnaire. |
| Can be branded with your logo | You can add your logo to the candidate experience and also to the front of the rpeort PDF, so its your logo your client sees. |
| Can be embedded into your own website | When you join the Partner program. you can keep candidates on your own website at all times. |
| A wide range of reports covering every job role | Regardless of which job role you are filling, there is a report design you can use. |
| Wholesale discount available to Recruitment Agencies | When you join the PeopleMaps Partner Program you can enjoy a 50% discount on all orders. |
| No minimum order | There are no mandatory set up costs or minimum orders so you can get started by buying just one credit if you like. So you get to keep your cash and only buy what you need. |
| No training costs | You save a lot of time and money as training is not mandatory. you can use the reports successfully with any training. |
What's In The Personality Reports?
​Each report begins with the candidates Personality Certificate. This section focuses on the positives of the candidate and is designed to help them get noticed by employers and get job interviews. You can copy and paste this section and send it to potential employers if you like, as it works as a stand-alone report.
Each report contains several text-based topics. Each topic describes one specific aspect of the candidate and includes an interview question to ask and what to look for in their answers.
The topics used vary from report to report. So the Sales personality report will talk about issues pertaining to sales, whilst the Admin report will talk about issues affecting admin jobs.
Every report contains at least x20 Personality Gauges. Each gauge measures a specific behaviour from 0 to 100. This provides you with a quick visual of specific behaviours.
Each report design uses a different set of gauges, as each gauge has to be relevant to the subject of the report. So the Sales report will include gauges pertinent to selling.
Each report is between 15 and 25 pages long. They are not only incredibly accurate but detailed.
Each Report Includes 20 Personality Gauges
Authoritarian or Collaborative management style
x4 gauges re Motivation
x6 Gauges on Sales Style
Decision making
Gauges relating to Management Style
Team working gauges.
Behaviour Gauges
Environment Gauges
Recruitment Agencies
The Agency Pro range of personality reports has been designed exclusively for recruitment agencies. Only agencies or established recruitment consultants can buy these reports.
Recruitment Agency Clients
All reports are jargon-free and can be handed to your clients to use. Your clients need no specialist training to use these reports.
What Our Customers Are Saying
Don't just take it from us, let our customers do the talking!
It's simple to use – only takes a few minutes to complete and the results are shockingly accurate.
We have found it very useful and a real help with recruitment. Not only can we get an insight in an applicant's characters to see if they fit our profile but more recently if they would fit our working environment. This has been massive as it helps with staff retention. It's all well and good getting staff that can do the job but if they hate working in a gallery then they won't stay long no matter what you do.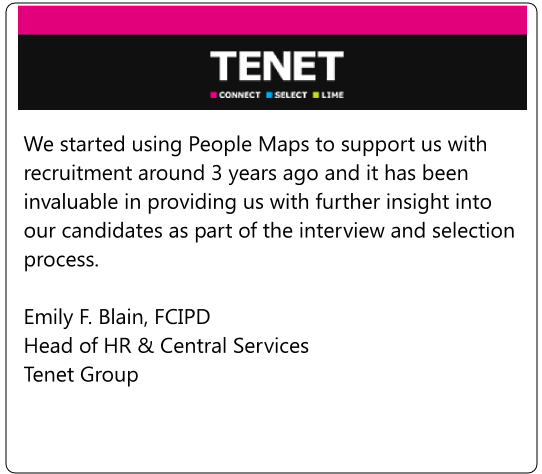 Frequently Asked Questions
What psychology is this based on?
PeopleMaps is a Jungian system based on the research of Carl Jung.
What is your refund policy?
We offer no-questions-asked refunds to all customers within 30 days of your purchase. If you are not satisfied with our product, then simply send us an email and we will refund your purchase right away. Our goal has always been to create a happy, thriving community.
Is it accurate?
We are confident that you will find the report to be incredibly accurate. We have many happy, repeat customers for PeopleMaps personality reports. This is a professional profiling system.