Martin Gibbons CEO and Founder of PeopleMaps.com

I read my first personality report over twenty years ago and it changed my life. I remember thinking "Everyone needs to get one of these." Suddenly a lot of things became clear.
A few years later and I was wondering why personality tests were not available on the Internet. At that time (around 2000) the whole industry was against online personality profiling. I suspect there were too many people at risk of losing some money if reports were available online.
So I brought my Internet knowledge together with Anne's psychology and made personality profiling available to everyone. To date we have given away over a million personality reports.
I suspect we have changed some people lives as well.
Since 2000 I have thrown myself into the study of Jungian personality profiling. I have been very lucky to have Anne Ellis as my personal tutor. The more I learn, the more fascinating it becomes. I doubt I will ever stop learning or discovering new aspects about personality psychology and its application.
We have developed the technology to an extremely advanced level; years ahead of most profile providers.
The PeopleMaps Questionnaire
It took us a few years but eventually we created a questionnaire that delivers incredibly accurate reports but takes only a few minutes to complete. Where most questionnaire take 30 minutes to complete, the PeopleMaps questionnaire only takes 8 minutes. It's a combination of clever psychology and clever technology.
The PeopleMaps Control Room
A big breakthrough for PeopleMaps was the development of the PeopleMaps Control Room. This is the only system in the world that lets the user design their own report.
We provide over a hundred personality topics and the user designs the report they need by picking five or so from the library. The Control Room is used in everything from recruitment to coaching. It's an incredibly flexible tool with some powerful advanced features.
Coaching and Training
Online coaching has become more and more prevalent at PeopleMaps. We developed our own training platform, which is personality centric. It is the only personality centric training course platform in the world at this time.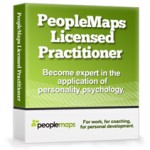 The PeopleMaps Licensed Practitioner Program is a detailed video course explaining the psychology and the system in great detail. It is available to anyone who is interested in personality psychology.
PeopleMaps has proven to be so popular that we regularly get enquiries from people and companies that want to distribute PeopleMaps worldwide.
We have now created the PeopleMaps Partner Program, where we work with individuals and companies to deliver personality profiling solutions to a wide range of clients. This is a win : win scenario as the client, PeopleMaps and the Partner all benefit from this arrangement.
Career Coaching
Coaching and training is of a particular interest to me and I set out a few years ago to come up with a better approach to job hunting. Personality affects every aspect of our lives but it's particularly noticeable when our work and our personality are out of sync. The 3 Step System To Land Your Dream job was a great success and it has helped many people excel in their careers.
It seemed logical to create it as a Train The Trainer program (called Career Coach).
PeopleMaps is now working with more and more coaches, providing them with the personality profiling system they need to be able to help and coach clients.
We work with business coaches and life coaches. It's hard to imagine coaching anyone without a solid understanding of who they really are.
Helping Companies Too
Having worked with many employers I realised that personality psychology was affecting every stage of the recruitment process and that employers needed more help than they knew.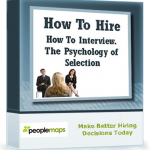 I wrote a new training course called "How To Hire And Interview – The Psychology of Selection".
It explores each stage of the recruitment process and examines how personality psychology is affecting it. It then provides ideas on how to improve the process and ultimately create an extremely robust recruitment process.
If an employer really wants to make better hiring decisions than their competitors then they simply need to apply some of the ideas contained in this course.
Biography of Martin Gibbons
BSc in Applied Physics and Instrumentation
Jungian psychology student since 2000
Goldratt business consultant
Marketing consultant